Noticeboard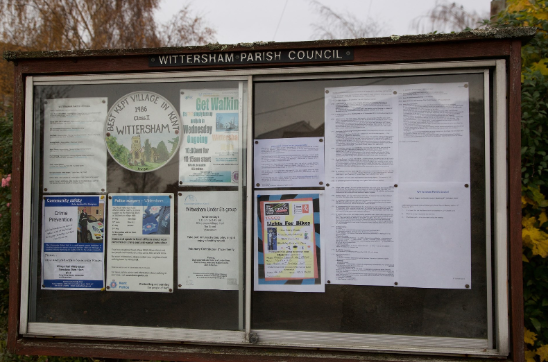 NOTICE OF VACANCY IN OFFICE OF COUNCILLOR
PARISH OF WITTERSHAM
NOTICE IS HEREBY GIVEN
that due to the resignation of Lesley Brown, a vacancy has arisen in the Office of Councillor for the Parish Council.
If by 15 December, 2023 (14 days* after the date of this notice) a request for an election to fill the said vacancy is made in writing to the Returning Officer at [email protected] or Civic Centre, Tannery Lane, Ashford, Kent TN23 1PL, by TEN electors for the said Parish, an election will be held to fill the said vacancy, otherwise the vacancy will be filled by co-option.
If an election is called, it will take place not later than 21 February, 2024.
Dated 27 November, 2023
Clerk to the Parish Council
Mrs Y Osborne
23 Hilltop Drive
Rye
East Sussex
TN31 7HT
* In computing any period of time for this purpose, a Saturday, Sunday, Christmas Eve, Christmas Day, Good Friday, a bank holiday or day appointed for public thanksgiving or mourning must be disregarded.
Wittersham Parish Council
Vacancy for a Councillor
A vacancy has arisen on Wittersham Parish Council for a new Councillor, following a resignation.
A formal Notice has been posted here inviting residents to petition, if they wish, for a by-election to fill the vacancy. If the petition reaches the threshold of ten electors a by-election would follow. BUT PLEASE BE AWARE: the costs of an election would normally be charged by Ashford BC to the parish council, at an estimated cost of £3,000, and would only be worthwhile if there were expected to be more candidates than vacancies.
If the petition does not reach the threshold for an election then the vacancy will be filled by co-option. Interested residents who qualify (*) to be a councillor should make themselves known to the Clerk, Yvonne Osborne (*), by 15th December 2023 to get further information and ask any questions.
The council will then consider those persons who apply, ask them any questions on their candidature and decide by a vote who they prefer to co-opt. The Co-option Policy & Procedure can be found on the parish council's website. (NB. The Policy calls for a vacancy to be advertised, inter alia, in Outlook, but as the next available edition is not until February and legislation demands the vacancy be filled as soon as practicable, that will not take place on this occasion.)
Yvonne Osborne
Clerk
27th November 2023
* To qualify a councillor must be at least 18 years of age, a British, Irish or Commonwealth Citizen with rights to live here, and satisfy certain detailed rules on having a connection with the parish, either by residence in or near the parish or by their work location. The Clerk can clarify the impact of these formal rules in the case of any uncertainties.
Contact the Clerk at: [email protected]
Mobile: 07944 183798